Darkride by Laura Bradley Rede

Published: December 20th 2011 (first published December 9th 2011)
Format : Ebook
Pages: 288
Series: #1
Source : From author for review
Amazon
Ander McNair used to be the favorite son of a great monster-hunting family – until he was bitten by a werewolf and the hunter became the hunted.
Now anything that makes his pulse race, even a kiss from his girlfriend Cicely, is enough to turn him into a monster.

When he finally gets a chance to earn his cure by killing a vampire prince, he finds he has to choose between his own past and the future of the girl he loves. Can a guy who's not even human learn what it means to be a man?

Luke Marianez used to be an immortal vampire prince – until the witch he loved betrayed him and cursed him with the ability to die. Now he lives in the world of vampire blood bars, where the waitresses are the drinks, and dreams about killing the last of the witch's line so he can live forever. But revenge doesn't just mean breaking the curse. He wants to break the girl's heart, too. Can Luke seduce Cicely without falling in love himself?

Cicely Watson doesn't believe in werewolves or vampires. She's not even sure she believes in true love. But she's about to discover what every werewolf knows:

People change.


*MAY CONTAIN SOME SPOILERS*
I know, it took me ages to write this review. But you know what? I've noticed that if the book is really good, it's hard to write a review. Because I can't just make a list about the good things. Or I don't want to. But I'll try to write something that makes sense.
I think my first thought might have been "vampire and werewolf fighting over a girl, where I've heard that before?". If you thought of that, don't let that stop you from reading this book!
Seriously, you have to read this.
Especially if you love love triangles, steamy moments and heartache, this is the book for you!
Before this I read a book where was this whole "in-love-with-my-best-friend"- situation, and I just loved it! So I was glad when the book started with the same situation.
But, then enters the mysteryman! And we'll get some huge twists and turns and you just want more! You just can't get enough.
I'm always happy when you don't know what's going to happen next, and that's the main reasons why I fell in love with this book. Book starts with some what common settings, but prepare yourself for some surprises!
Also, prepare yourself for the sobbing. It was quite embarrassing, since I was visiting my father-in-law, and I tried to hide behind laptop and sob there in silence, otherwise it could've been quite awkward..
Especially since towards the end the sobbing just increased.
I also appreciated fluent writing and functional dialogues. Author also managed to describe characters' life outside dialogues, which was refreshing.
For example, I think I've never met a character who lives in a trailer. Ander's life was also quite exceptional, and I was happy to see this part of him, even though this part especially will break your heart in the end.
Anyway, this brought certain depth to the characters, and was a big part of character development. Again, job well done!
I was really surprised when I finished the book. I didn't expect that kind of outcome, especially since I didn't realize this was just the first book in the series! So after I was finished, I googled like crazy.
And was so happy when I found out there will be another book! Seriously, nearly had heartattack.
And why is there half of cupcake missing? Guess I feel little confused about the ending. Otherwise the writing felt really personal and intimate, but not so much in the ending. Luckily, it was only prief moment, but then the book was over and I still felt confused and nearly cried again. But now I'm just excited, I can't wait for the second book!
I had some extratime, so I did some photoshopping immediately after reading this. Nothing fancy, but it's always awesome when book gives you inspiration to something! :)
So, here's some buttons, originals from
the Darkride's homepage
! And you probably can notice from the buttons which team I am in ;) (hint: don't see Ander anywhere. Sorry!)
Grab the buttons if you like, I'll add them to my freebies- page soon.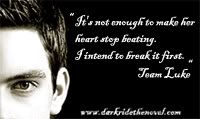 Now, get yourself a copy and prepare yourself for some heavy crying! And after finishing the book, cry some more, because this book leaves you craving for more! But the second book hasn't been published yet, so you'll just have to wait :)
+ ½
Laura, this rocks. Seriously. So millions of thanks to you! :)